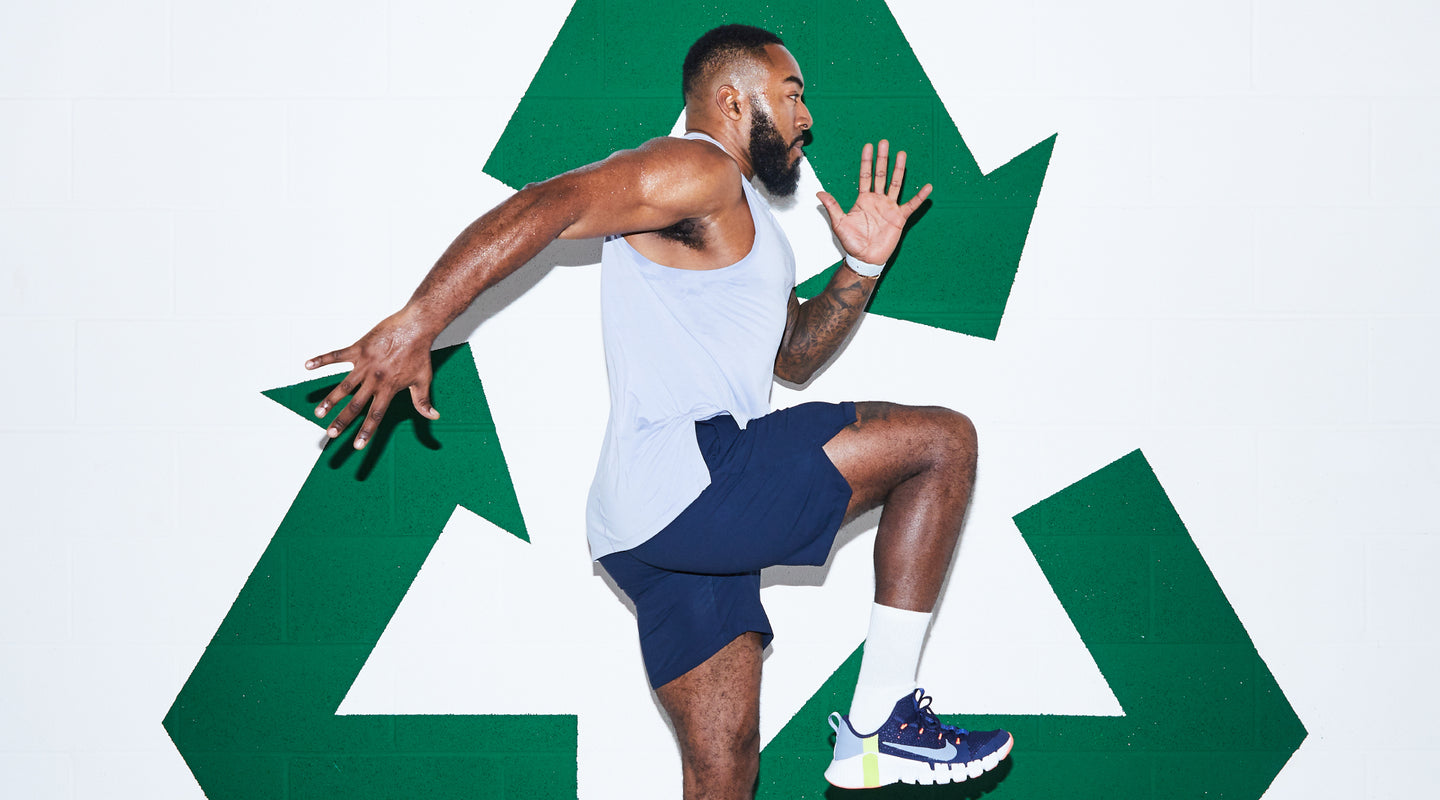 Call it the 'Attenborough' effect but many of us have been looking to live more sustainably since we watched the BBC's Blue Planet II series with conservationist & national treasure, Sir David Attenborough.
As humans, our impact on the Earth is undeniable, but there are lots of ways we can make positive changes in our everyday lives. One area that could do with an eco upgrade - is our gym and fitness habits. For example, if you're still buying plastic bottles of water for your workout, it's greener & cheaper to bring a reusable, refillable aluminium bottle. 

One of the easiest things we can do to live more sustainably is to take better care of our clothes so that they last longer.
The UK is the fourth largest producer of textile waste in Europe. On average, each Briton throws away 3.1kg of textiles per year, 1.7kg of which is headed straight for landfill. That's a staggering 350,000 tonnes of unwanted clothing every year.

Activewear can be one of the hardest categories to recycle, because it's largely made from technical fabrics & synthetic materials such as polyester, that are made from plastic & cannot be separated or repurposed. The biggest brands in the game - Nike, Gymshark, Under Armour & Adidas all utilise synthetic materials for their statement pieces. 
Re-sale or charity donation isn't an option, just because (call us crazy) few of us want to wear someone else's stinky old gym kit. Gymspin founder, Phil Taylor, has these recommendations to make your work out more sustainable.
1) Choose sustainable fabrics
There are plenty of sustainable & ethical clothing brands now offering running, yoga and gym wear made from more conscious materials, such as recycled ocean plastic or post consumer fibres, or natural fibres such as bamboo.
2) Buy less, buy better
Some of us feel more motivated if we're wearing new gym kit. As with anything, if we like it, we tend to take better care of it. Spending more on a quality item is a long term investment in your activewear wardrobe. With daily or frequent use, the cost-per-wear becomes very economical.
3) Use a biodegradable sport wash detergent
Removing the lingering smell of sweat can be tricky with regular detergent.
Gymspin is a lab-formulated, bio laundry detergent with a deep cleansing enzymatic complex to remove bacteria. It has a long lasting fresh aroma thanks to its innovative phytofocus scent technology. Optical brighteners & stain removers revitalise the fibres, which keeps them looking & smelling box fresh for longer.
4) Wash at cold temperatures, on a shorter cycle
Save water & energy by washing your activewear at low or cold temperatures. Gymspin is just as effective at removing the odour of stale sports sweat on a short, cold cycle, or as a longer 30℃ wash.
5) Don't drive to the gym
Make the journey to the gym part of your workout. Active travel helps cut air pollution & traffic congestion, so if you can run, cycle or walk to your gym it will help your local environment & burn some bonus calories at the same time. 
6) Use a microfibre bag
Performance fabrics have some great benefits, but they tend to be synthetic which means they shed micro fibres every time they are washed. To cut down on micro plastic pollution in our rivers & seas, it's a good idea to invest in a laundry bag to filter out the micro fibres. It also helps to keep your kit together & protects it from catching on zips & other items.